There is a reason why overseas Filipino workers choose to send money back to the Philippines and payout to their loved ones via Cebuana Lhuillier: its huge money transfer network of 2,500 physical branches means beneficiaries can cash out literally anywhere in the country.
Now, these hardworking folk have 120 more reasons to do so: Cebuana is giving away 120 monthly tech prizes worth over 1 million pesos for its "Winner TECHs All" remittance campaign.
Double the chances of winning with Tranglo
From 1 April to 30 June 2021, beneficiaries of remittances made through Tranglo and claimed at Cebuana will get 2 e-raffle tickets instead of 1.
This is made possible by the special partnership between Cebuana and Tranglo.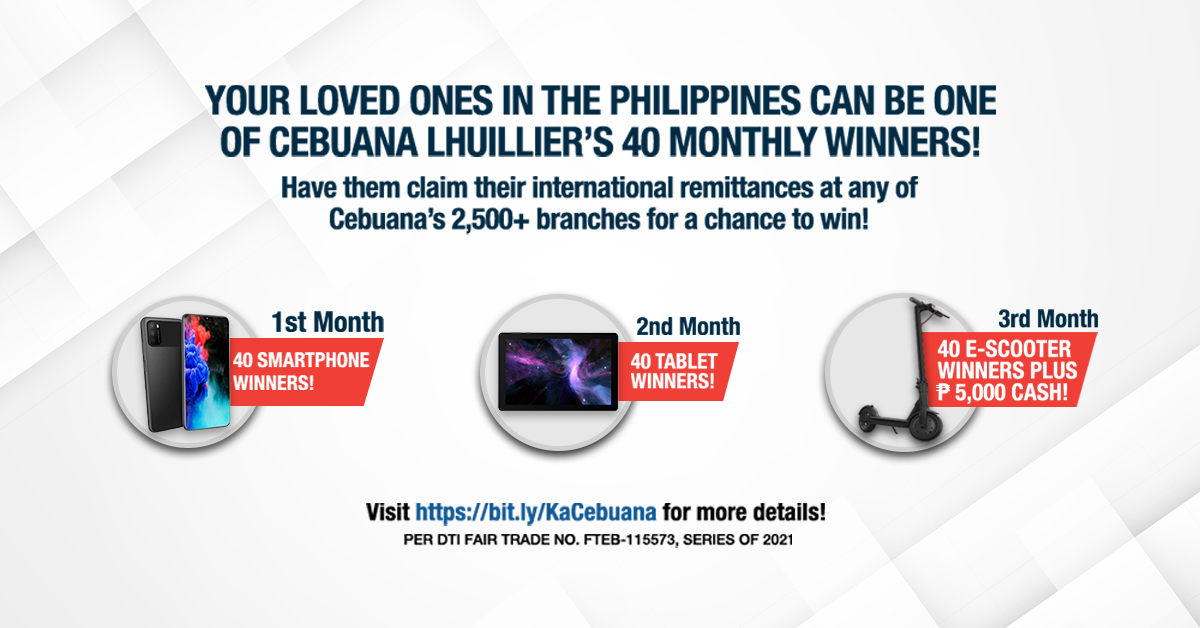 Useful information such as Cebuana's local and global partners, as well as branch locator and requirements, is found here.
Shoutout to all
"Tech" advantage of this 3-month campaign and send money home to Cebuana via Tranglo. The more you send to your beneficiaries, the higher their chances of walking away with cool prizes!
Your transactions are in good hands. The seamless integration of the Tranglo and Cebuana networks means barely any downtime. Your funds will get to their destination reliably and quickly.
We are always committed to making international remittance accessible by keeping the cost down so you can easily send money back when your loved ones need it the most.
*We enjoy supporting our partners' campaigns and sharing them so that everyone benefits. If you are a business and want to harness the reach of our international money transfer network, contact us today.