Established in 2017, CROSS ENF provides remittance services in South Korea. Its app, Cross, was launched in 2019 to tap into the rising popularity of digital remittances among the migrant population. In just 2 years, the app garnered over 30,000 monthly active users, processing USD200 million in remittances.
As a result of its digital transformation efforts, CROSS ENF became the remittance service provider of choice for the Thai migrant community, one of the largest foreign populations in South Korea1.
The challenge
CROSS ENF wanted to expand its remittance services to the Philippines as demands for the corridor rose rapidly. After rounds of partnership enquiries, Cross found out that most cross-border payment firms set strict prefunding conditions, which would lock in valuable working capital. This in turn would hinder its plans to grow other focus areas.
Negotiations on multiple fronts were also time consuming and ate into the firm's resources. Not only that, some of these talks were ultimately fruitless as both parties could not come to an agreement. These diversions impacted its operations and the delay of multiple key backend projects reduced profits.
The Tranglo solution
CROSS ENF first approached us in January 2019, setting its sights on the Philippine corridor. However, the company understood that it needed the flexibility to expand to other corridors. Enter Tranglo Connect with a single connection. With a simple integration to 24 countries and corridors, CROSS ENF could immediately start providing services where they wanted while paving the way for future plans.
But the biggest advantage lies with Tranglo Connect's flexible funding model and smart settlement. As both prefunding and settlement were done in one place here at Tranglo, CROSS ENF were able to secure its cash flow. Freeing up working capital allowed the company to focus on customer engagement and supplementary services, closing more sales. Its marketing team also received reports on data and trend analytics through complimentary marketing support, further enhancing the efficacy of its promotional campaigns.
The result
In 2 months, CROSS ENF experienced a 5000% growth in transactions to the Philippine corridor. Now, it sees a steady annual transaction growth of about 30% that allows it to close in on its annual target of USD500 million in remittances.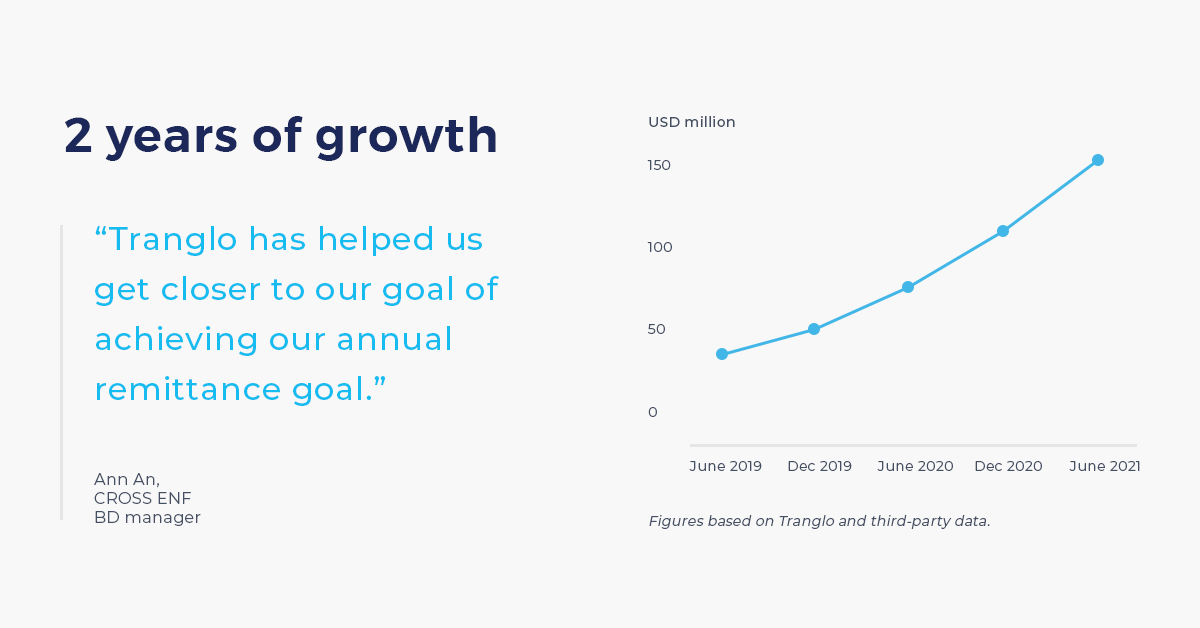 With a stable cash flow, CROSS ENF can expand its operations beyond remittances by offering additional services through its latest products, Cross Call and Cross Shop. "Call" provides administrative and legal services for foreigners, while "Shop" sells hometown goods. The foreign community in South Korea now has a one-stop shop for everything they need to feel at home.
To find out more about how we helped CROSS ENF consolidate cash flow and achieve these growth numbers, contact our experts.
1185,000 Thai migrants are found in South Korea, according to data by Thailand's Foreign Ministry in a 2020 Reuters report.